The National Park of American Samoa welcomes you into the heart of the South Pacific, to a world of sights, sounds, and experiences that you will find in no other national park in the United States.
Tropical storms are more prevalent during the long, wet summer season (October to May) and a slightly cooler and drier season (June to September).
Rain showers are frequent and can last only for a few minutes or all-day. The average annual rain fall is 125-inches in the dryer areas to as much as 300-inches in the highest mountains.
Enjoy this unique national park and the welcoming people of American Samoa.
American Samoa National Park is a free park and has no access fees.
The National Park of American Samoa offers a variety of hikes for all abilities. Enjoy experiences that include tropical rainforests, beach walks, and steep panoramic vistas. Whether you need solitude, wildlife sightings, or are interested in history and culture, there is a hike for all interests. Checkout our Day Hikes brochure for more information and options throughout American Samoa's islands. Day Hikes Brochure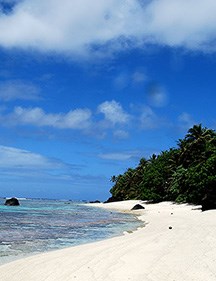 Open on weekdays from 8:00 am to 4:30 pm. Closed on weekends and federal holidays. Located in Pago Pago village, across from the Pago Way Service Station.